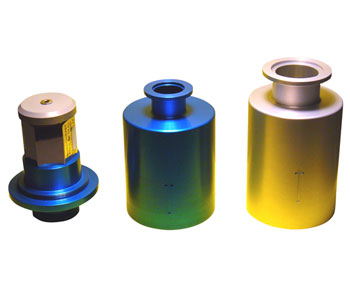 We can supply Special Valve housing assemblies that capture relieved gasses for recirculation and also to provide end connections not available as a standard inlet and outlet connection on the valves. In this application the valve's NPT end connections were converted to KF25 or KF40 flanges as part of the housing design. After working with many customers for many years, we understand the tight tolerances for both the cracking pressure and re-seat pressures for the applications. This valve is suitable for gases like Air and Nitrogen as well as the more difficult gases like Helium. It can be used for both normal gas applications and cryogenic boil-off gases.
These both KF25 & KF40 Flange Adapters are available in Aluminum and St. Steel versions. The Set Pressure can be from 0.5 psig to 7.0 psig max. with an accuracy of ± 5% of set point and reseat at around 90% of Cracking Pressure. The main applications are – 
for overpressure protection of vacuum vessels & systems
low-pressure gas systems and cryogenic boil off of set point.
The main advantages are:
Coupling and removal of the valve into the process line is made more convenient as there are quick-release flange connections at both ends.
The outlet housing flange reduces the fugitive emissions of process gas when the relief valve opens by providing a piped outlet for disposal or recirculation of the process gas.