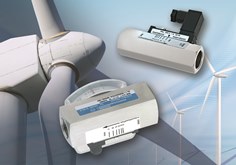 The DKM range of viscosity compensated flow switches can be used for the monitoring of gearbox lubrication of wind turbines.
Designed to work with oils & other viscous media so that reliable monitoring can be achieved with variations in viscosity between 30 cSt & 600 cSt.
With working temperatures up to 160 degrees C & a working pressure range of up to 350 Bar these flow switches are ideally suited to applications were viscosities of medias can change.
Ranges start at 0.5 L/min with brass & stainless steel versions, with a range of electrical switch types available from normally open through change over to an EX version to ATEX.
Read more here